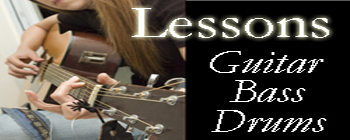 Rocket Instruction
The New River Valley is a Mecca for talented musicians. Rocket Music is extremely fortunate to host a variety of superb and world class musicians who enjoy sharing their talent as instructors. Rocket hosts a wide variety of excellent guitar, bass, and drum instruction that covers a wide range of popular styles and levels including beginner, intermediate, and advanced lessons.
---
About instructors who teach at Rocket:
Greg Albert is one of the regions foremost rock guitar instructor. He has been teaching guitar since the late 1980s with hundreds of dedicated students in the region, many which have become very successful professional musicians, expert players, and instructors themselves. His student success stories include Grammy Award nominees December Radio as well as several rising stars in the works. Greg is a master of many forms of guitar with a comprehensive understanding of music theory and exceptional ability, patience, and unwavering enthusiasm for teaching. Greg is a dedicated instructor and demonstrates diverse skills in a broad range of complex, innovative, and traditional styles. He specializes rock, hard rock, metal, pop, shredding, jazz, and popular music, with high levels of proficiency in the full range of guitar styles and music theory.


Cameron McLaughlin is an remarkable young talent who was a personal student of the reknown bassist Victor Wooten featured most notably of Béla Fleck and the Flecktones. He conveys the valuable lessons and powerful philosophy of music of in his cool demeanor, insight, talent, and passion for teaching bass. Cameron is a world-class bass player who specializes in a wide variety of bass styles including funk, slap-bass, roots, metal, jazz, rock, and beyond. He knows bass, and can communicate and motivate the craft to all levels including highly advanced students.


Bobby Beaton is one of the most talented and dedicated guitar instructors in the region. He studied under Richard Jesse since the mid 1990s, and his instruction reflects his outstanding training. He has an excellent grasp of guitar theory and passion for teaching. In addition to doing recording session work, he has recorded two albums, and he been a featured musician at live performances around the region. He has many years of experience working with diverse guitar students, and several of his students have applied their instruction to form and play in successful local bands. Bobby has a wonderful disposition with people and guitars and enjoys playing funk, metal, alternative rock, acoustic and jazz. He consistently exhibits remarkable patience along with a bright, positive attitude, and sense of humor that creates the perfect atmosphere for beginner and advanced guitar students.


George Penn Jr. is an awesome talent and perhaps the most well-known and hardest-working drummer in the New River Valley. Following in the footsteps of his father, George Sr., he has played professionally with many great bands in the region and beyond over many years. In addition to standard instruction in drum method, technique, rudiments, timing, sticks, and drills, George instills an enthusiasm and love for drumming that involves the more difficult lessons that characterize wholistic drum instruction such as feel, touch, and taste. George has a rare ability to play, understand, and convey diverse drum styles, and he specializes in popular forms such as funk, ethnic, rock, hard rock, metal, roots, and reggae styles. His positive vibe and genuine interest in helping students make him an outstanding instructor for all levels.


Ryan Little has been teaching guitar and mandolin since 1990s and is proficient in music theory and a wide variety of styles. Ryan has performed country, bluegrass, hip-hop, metal, funk, rock, jazz, and pop, playing most recently in the band Trifekta. In addition, Ryan has composed and performed music for Virginia Tech's Theater Arts Department for plays such as "Tallgrass Gothic", "Asleep on the Wind and Graceland", and he served as musical director for "Dr. Arlecchin (The Imaginary Autopsy)". His instruction emphasizes developing a "good ear" for music and applying theory to song writing and improvisation.


Greg Bump is a master of slap and roots bass. He has been playing music in Blacksburg for many years with Electric Woodshed and The Kind. He is adept at applied bass theory, specializing in Rock, R&B, Blues, and modern fusion styles. He is an avid bass gear head, and knows the ins and outs of bass equipment and bass tonalities. Many customers are treated to Greg's demonstrations of bass equipment and are often in awe of what he can do his knowledge of slap and traditional style and bass gear.


Dan Dunlap has been playing in a wide variety of successful bands in the region since the 1980s, including Electric Woodshed, The Kind , 3 Minute Lovin, and others. He offers some special appreciation and knowledge of electric and traditional blues such as Delta, bottle-neck slide, and Piedmont blues styles, as well as classic and folk rock. He also Rocket's guitar technician, and as such, he provides insight into technical aspects of the guitar that relate to guitar instruction and technique. He also performs with midi-synth guitar and can instruct in the special gear and techniques involved in synth guitar.

If you have particular interest in any of these instructors, special arrangements can be made by emailing, calling, or visiting the Rocket Music.


Lesson Policies: Lesson arrangements, scheduling, and cancellation are negotiated between the instructor and student. Rocket will help arrange lessons, but we are not responsible for the structure, content, or scheduling of the lessons. We will assist in the communication and payment processing, but those matters are ultimately agreements made between students and instructors. We are fortunate to host some of the finest teaching talent around, and we take that responsibility seriously. We do our best to assist our resident instructors and their students in their needs. Our instructors are professionals and experts in their business, and we do our best to treat them as such. Please let us know how we can help improve our lessons in any way to better meet your needs as current or prospective students and instructors.